We will try to treat all patients with courtesy and respect, without discrimination or favouritism.
Cuirfimid béim ar dea-shláinte agus achmhainní pearsanta ár n-othair.
Micheál and Noirín Fanning's first set up a clinic in Dingle over the Mall river in 1983, in the building directly across from our current location. The Fannings have been moving up and down the Mall river ever since.
Following a spell in the Billy Riordan Clinic in Malawi, GPs Máire Fanning and Peadar Ó Fionnáin set up their own clinic in 2013 alongside practice nurse, Noirín Fanning. In 2020 they bought the property behind the court-house and created a bright spacious primary care filled with light and bird-song.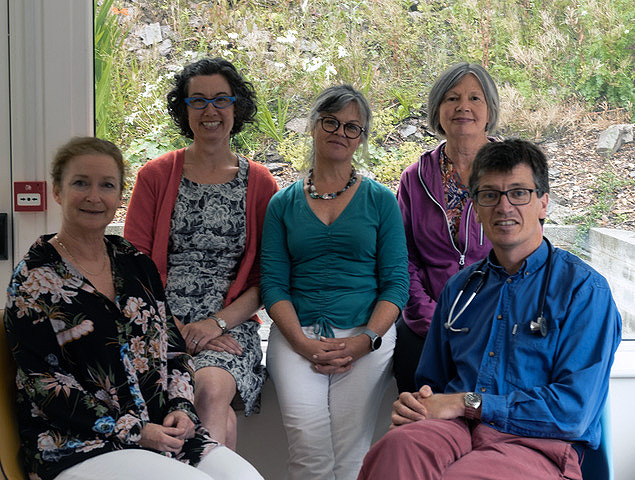 Meet the Team | An Foireann
Dr. Máire Fanning
Doctor / Dochtúir
From Dungarvan, Máire is a proud (and patient!) Déise supporter. She studied Medicine in UCC, and subsequently worked in both Australia and Ireland. She completed higher training in Paediatrics (MRCPCHI), and worked as Registrar in Tallaght. She subsequently completed her specialist GP training in Waterford in 2012. Máire maintains a keen interest in Child Health, and has undergone further training in Women's health and Contraception. However, she has 3 children.
Dr. Peadar Ó Fionnáin
Doctor / Dochtúir
Is ón Daingean é Peter: D'fhás se suas trasna an bothar ó gheata an chlinic agus d'fhreastal sé ar scoil thar an falla ar chúl  i Meánscoil na mBráithreChríostaí (pé go bhfuil blas aisteach ar a chuid cainte ar nós duine ó D4…). D'fhreastal sé ar Choláiste na h-Ollscoile BAC (UCD) áit a bhain sé céim onóracha sa Leigheas.
He completed specialist training in General Practice in Cork and Kerry in 2010, and subsequently worked for one year in Dingle with his father, Micheál. He has previously travelled extensively, and has a keen interest in foreign languages and cultures. Now married in Dingle (to Máire!) he is active in Féile na Bealtaine  and the Green Party (Peadar Ó Fionnáin | Green Party). He has certificate in Cognitive Behavioural Therapy, diplomas in Child Health and Contraception, and is an Assistant Programme Director on South West GP training scheme. 
Noirín Fanning
Nurse / Banaltra
From Kenmare, Noirín trained as a nurse in Limerick General Hospital. While working in Bantry Hospital she met her husband, Dr Micheál Fanning. They travelled through various hospital postings in Ireland and the UK before coming to Dingle in 1983. After initially working in Dingle hospital Noirín worked with Micheal  from the late 80s. She completed one of the first practice nurse training courses in Ireland in 1993, Certificate in Family Planning and Well Woman Care and has Dip in Asthma Care 1999, Dip in COPD 2002, Introduction to Travel Health course 2002. Bhain sí amach dioplóm sa Ghaeilge and an honours Bachelors degree in English Literature awarded in 2018.
Maryann Heidtke
Receptionist / Fáilteoir
Maryann, along with husband Frank, was co-founder of Dingle Coast and Cliff Rescue, and a member of Killarney Camera Club. Maryann has been with Clinic Cois Abhann since our early days, bringing years of experience of customer service and professionalism from a career in banking.
Jill FitzGerald
Receptionist / Fáilteoir
Happily coaxed from Co Kildare to the Dingle Peninsula by her dairy farmer husband, Jill previously worked as a chef, raised her now grown-up children, and subsequently ran her own craft business for several years before heading for the bright lights of Dingle to join the CCA team in 2018. When not at the reception desk she's very likely to be working at her sewing machine on her latest creation!
Tá sí ag foghlaim Gaeilge.